Walks
The Isle of Rum is a paradise for hill walkers and mountaineers alike. If you are here for a few hours or a few days there are walks to suit all abilities, but remember to BE PREPARED. Rum, while wonderful, can have savage weather (so have suitable clothing, footwear and navigation aids); has very rough terrain and in season midges are a considerable nuisance so please ensure thorough preparation and take suitable precautions.
The main path across the island is the road from Kinloch village which splits further along into roads to Kilmory and Harris. From these roads access to rougher paths and mountain tracks can be found which lead to different areas of the island. Whether it's a breathtaking mountain ridge walk or a coastal stroll along wild, windswept cliffs, you will find Rum has everything you need for a fantastic day of walking and exploring.
During late September and early October the annual red deer rut takes place. This is the deer mating season, and while fascinating to watch, stags can be extremely dangerous during this time and should be given a wide berth.
The following Ordnance Survey (OS) maps cover Rum and the other Small Isles:
OS Explorer Map 1 : 25 000 Rum, Eigg, Muck, Canna and Sanday Sheet 397
OS Landranger Map 1 : 50 000 Rum, Eigg, Muck and Canna Sheet 39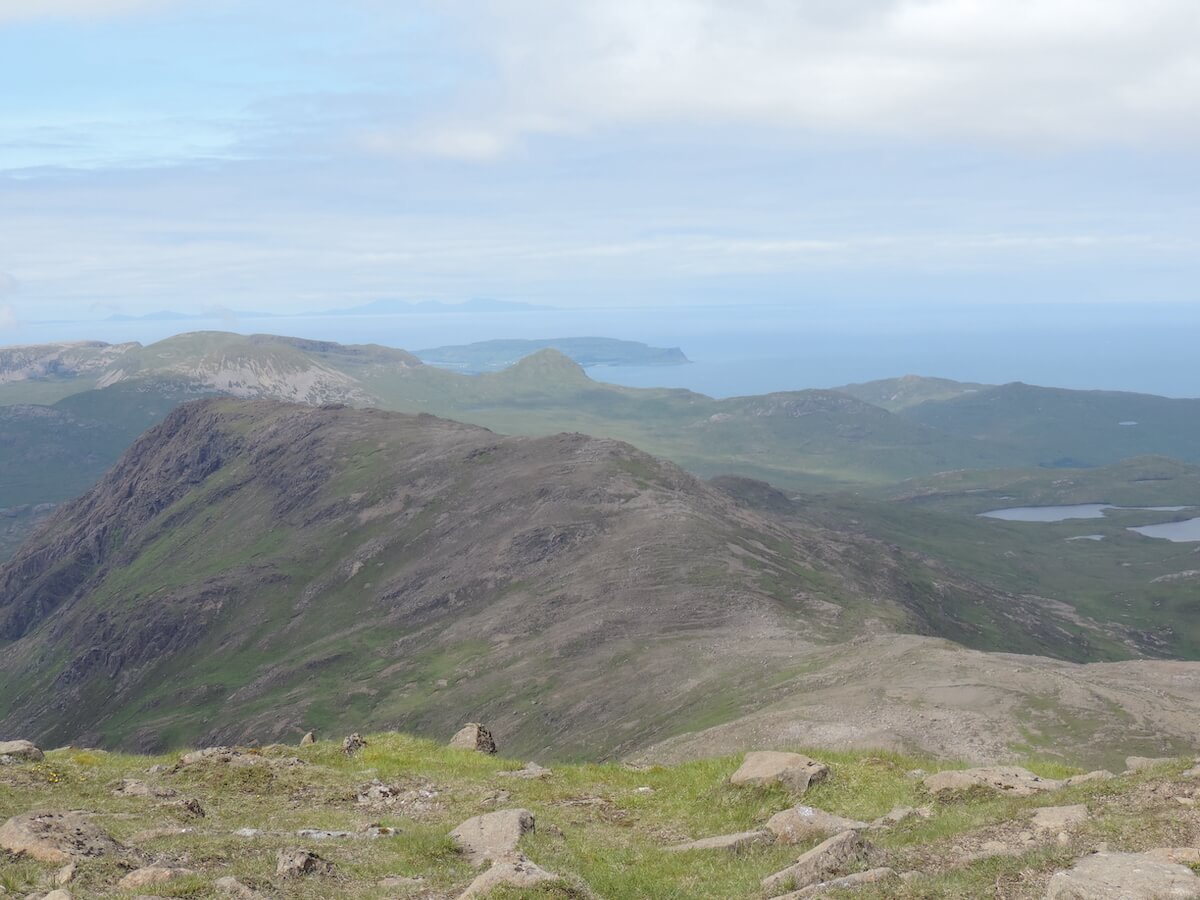 Short walks
Northside nature trail – This circular trail takes approx 1 hr to circumnavigate and is ideal if you are just here on a day trip. It takes you up and along the northside of Kinloch Glen, giving you views out into the reserve and a glimpse of the wildness of Rum. Follow the signs beginning in the village and enjoy a pleasant stroll.
Otter hide – This is a short (30 min) return walk along Loch Scresort's southside woods. Starting from the ferry terminal, although initially steep, this is a gentle walk along a good quality, but unsealed path. This walk can be enjoyed by all and passes some of the island's early settlements.
You are also able to wander around the village, taking in the atmosphere, and you will have plenty of time on a day trip to visit the Craft Shop, Rum Shop and neighbouring Tea Shop which is open for takeaway.

Longer walks
Kilmory – This is a return walk of 10 miles (16km), for the most part along a rough track, taking approximately 2hrs each way. Follow the road up out of the Village and through the deer gate and along Kinloch Glen to the crossroads where you veer right, turning into Kilmory Glen and continue into the Red Deer Project Study Area (see Wildlife section for more info). Kilmory boasts an unspoilt beach with outstanding views of the Skye Cuillins.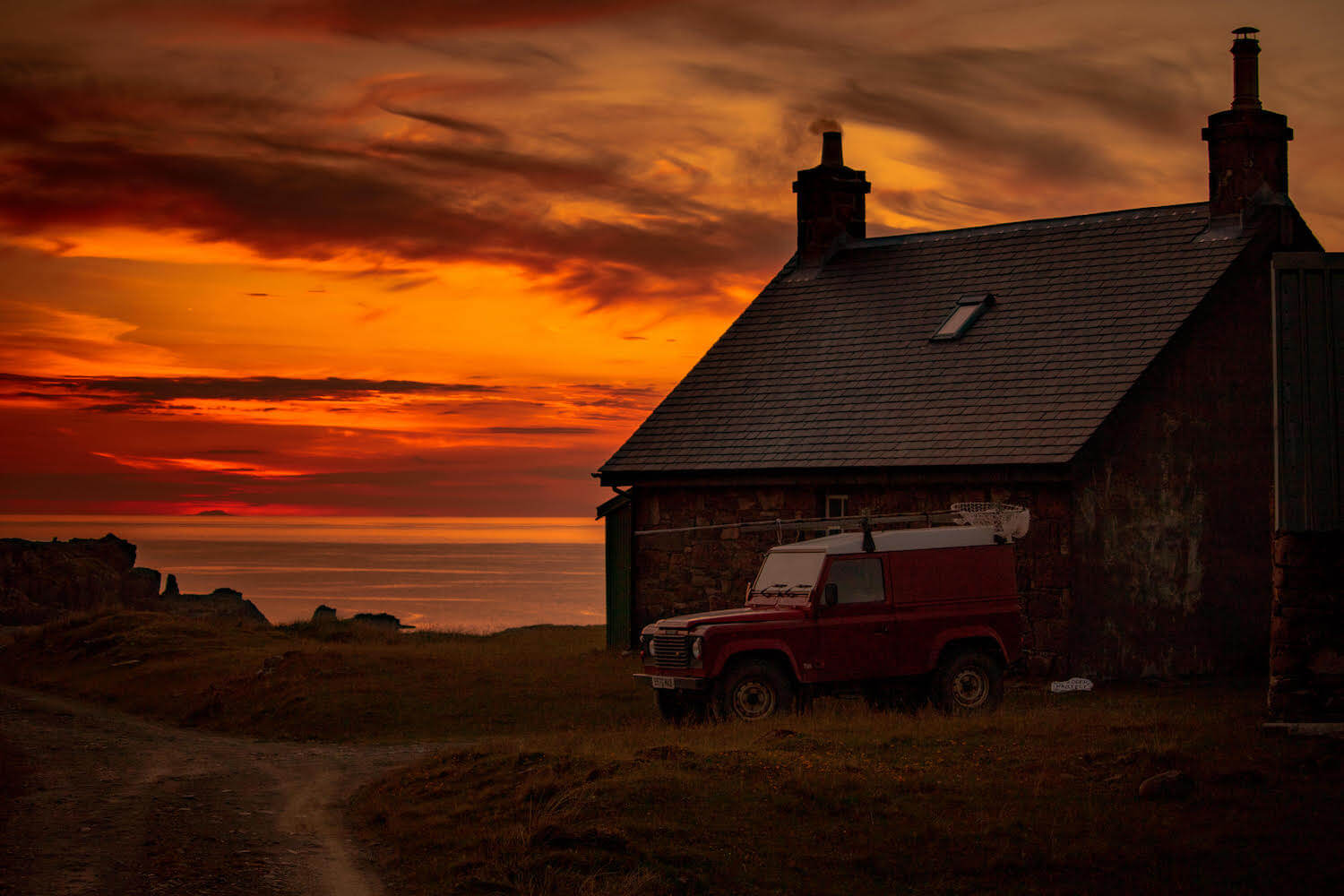 Harris
This is a return walk of 16 miles (26km) along a good track and takes approximately 4hrs each way. Follow the road out of the Village, along Kinloch Glen and carry on to the left at the crossroads. Harris is the site of the Bullough's mausoleum, standing proudly looking out to the west, where Sir George, Lady Monica and their son John lie at rest. In good weather the road to Harris has spectacular views of the mountains of the Rum Cuillin.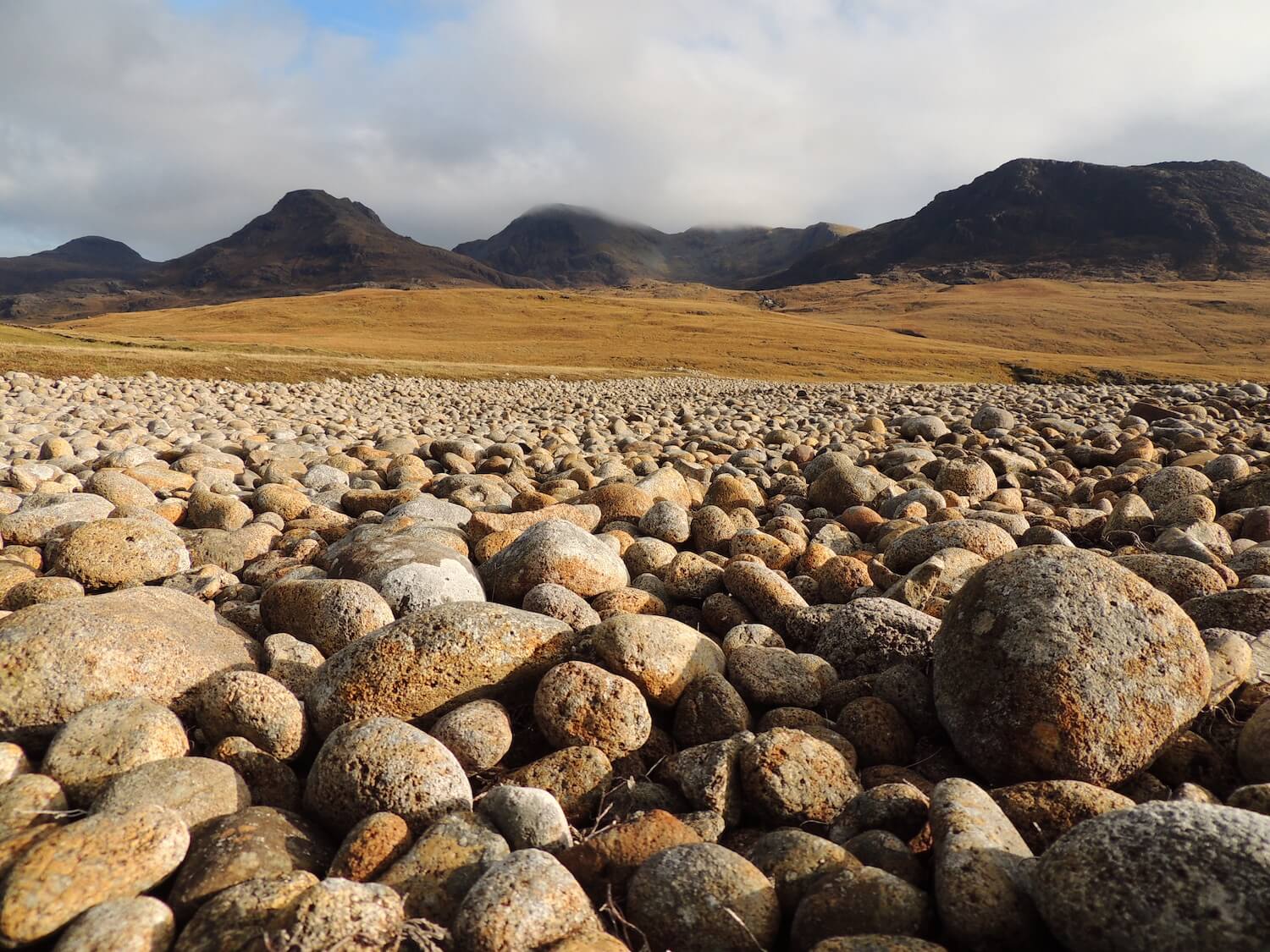 Dibidil
The path to Dibidil begins in Kinloch, to the south of the Reserve Office. It is an extremely rough path which can often be waterlogged and the burns that cross the path overflow very quickly in poor weather making this an extremely challenging and tiring 8.5 km walk each way. At Dibidil, there is a Mountain Bothies Association (MBA) bothy, with great views over the Sound of Rum to the Isle of Eigg. It is a great base for further exploring the Rum Cuillins and Papadil.
Rum Cuillin Ridge Walk – This is a classic walk, along the mountain ridge of Rum, covering approximately 13.5 miles (22km), depending on your route, of steep ascent and descent with some moderate rock scrambling over six peaks and takes about 12hrs. There is no clear path or route, so you will have to pick your way along this difficult range, BE PREPARED and have the necessary navigation aids. Starting either in Kinloch Village or Dibidil, this walk takes in the mountains of Barkeval, Hallival, Askival, Trollaval, Ainshval and Sgurr nan Gillean, before dropping down into Dibidil or Harris for the walk back to Kinloch. Although none of the mountains on Rum are Munroes, the weather can change in the blink of an eye, so be prepared and ensure you have suitable clothing, footwear and navigation tools. The following Ordnance Survey (OS) maps cover Rum and the other Small Isles: OS Explorer Map 1 : 25 000 Rum, Eigg, Muck, Canna and Sanday Sheet 397 OS Landranger Map 1 : 50 000 Rum, Eigg, Muck and Canna Sheet 39